Spiral Galaxy M-64 (NGC 4826)
"The Black-eye Nebula"
---
---
These image was taken with an ST-9E CCD camera thru Kopernik's 20-inch telescope. By using a focal reducing lens we can cut the normal F/8.1 focal ratio down to F/4. At F/4 there is less magnification, but a wider field of view. The field of view is about 16x16 arc minutes at F/4, but only 8x8 at F/8.1.
---
Quote from Burnham's Celestial Handbook:

In the Shapley-Ames Catalogue M-64 is rated among the dozen brightest spirals in the entire heavens; this suggests that it is not a member of the great Virgo Galaxy Cluster which is centered some 9 min. away....... The structure of M64 is somewhat unusual....... The spiral arms show a beautifully smooth and uniform texture with no trace of resolution into star clouds or knots of nebulosity. Separating and defining the arms are thin, dusky bands which appear similarly smooth and soft-textured. In the region of the central nucleus, however, a huge dust cloud suddenly makes its appearance, bordering the entire north and east side of the oval central mass. The dust cloud shows much fine detail on photographs made with great telescopes, and breaks up into an intricate region of mixed dark and luminous material as it rims the near side of the central hub.......
---
M-64, NGC 4826
Magnitude: 8.7
Constellation: Coma Berenices
RA: 12h 56m 44.3s
Dec: +21d 41' 05" Epoch 2000
Size (mins) 10.0 x 5.4
Classification: (R)SA(rs)ab
Outer Ring, Spiral, mixed Inner ring/S-shaped


---
Click below to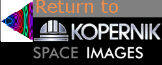 George Normandin, KAS
August 4th, 2001