Globular Star Cluster M-62 ( NGC 6266)
---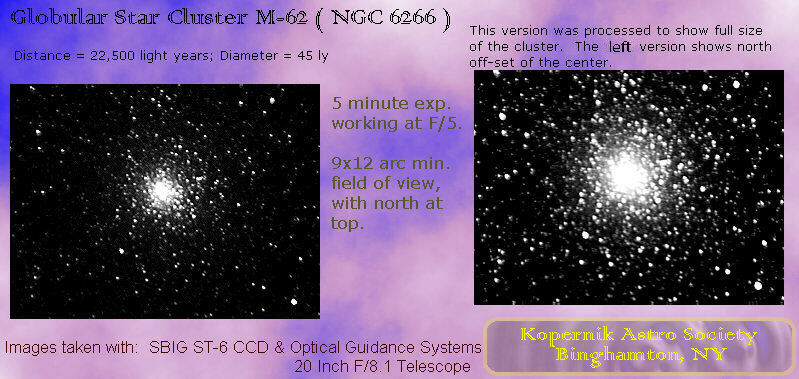 This image was taken with an SBIG ST-6 CCD camera and Kopernik's Optical Guidance Systems 20 inch Ritchey Chretien Cassegrain. The 5 minute exposure was made with a custom-made focal reducing lens, which cuts the scope down to F/4.9. The field of view is about 9x12 arc minutes and the resolution is about 2.3 arc seconds per pixel.
---
Description of M-62 in The Deep Sky Field Guide to Uranometria 2000:
Brightest stars = magnitude 13.0
horizontal branch stars magnitude = 16.3
Concentration: 4 (scale 1 to 12)
---
Quote from The Burnham's Celestial Handbook:
.....located squarely on the Ophiuchus-Scorpius border, about 7' SE from Antares, or about 40% of the way along a line drawn from Antares to cluster M7.......

H.B.S.Hogg, in the First Supplement to her Bibliography of Individual Globular Clusters (1963) gives the total apparent diameter as 6.3' and the total integrated magnitude (pg) as 8.16; the integrated spectral type is F8 and the average magnitude of the 25 brightest stars is 15.9. The cluster is seen against, and is probably embedded in, a rich Milky Way star field, so that the area, for many degrees around the group, is sprinkled with multitudes of tiny star-sparks. This is one of the globulars which appears to be actually immersed in the starry hub of the Galaxy. Light loss in the area, from absorption, is estimated to be about 2.4 magnitudes........

M62 is one of the most unsymmetrical clusters; the non-spherical outline was probably first noticed by John Herschel in 1847........ Shapley called it "the most irregular globular cluster"........ The lack of symmetry was found to be "marked not only in the distribution of stars but especially in the distribution of variables, 19 being found north of the center and 7 to the south..."
---