Elliptical Galaxy M-59 ( NGC 4621 )
---
---
Quote from the Deep Sky Field Guide to Uranometria 2000:

Bright diffuse nucleus, smooth nebulosity.

Quote by Johann G. Koehler (April 11th and 13th, 1779): "(M-59 and M-60)Two very small nebulae, hardly visible in a 3-foot telescope; one above the other."

Quote by Charles Messier (April 15th, 1779): "A nebula in Virgo, in the neighborhood of the preceding (M-58)........ It is of the same light as that above and as faint. M. Messier reported it on the chart of the comet of 1779."

Johann G. Koehler of Dresden discovered M-59 and nearby M-60 in April 1779 while observing the comet of that year. The comet passed near the two galaxies, which can be seen in the same low-power telescope field. Charles Messier independently discovered M-59 a few nights later while observing the same comet.

M-59 is an Elliptical Galaxy that is a part of the Virgo Galaxy group. Its estimated mass of 250 billion suns is only a quarter of that of its nearby companion M-60, yet it is still greater than the mass of the Milky Way. However, since it is smaller than the Milky Way, the stars of M-59 are much closer together. Like other elliptical galaxies M-59 is made up of mostly old and middle age stars. Since there is little gas or dust, there is no new star formation. Recent observations (R. Michard and J. Marchal, Observatoire de Nice, 1994) show that there is a disk of stars embedded in a spheroidal outer envelope. . M-59 has be the site of only one observed supernova, a Type I that reached 12th magnitude on May 2, 1939.
---
M-59, NGC 4621
Magnitude: 10.6
Constellation: Virgo
RA: 12h 42m 02.5s
Dec: +11° 38' 49" Epoch 2000
Size (mins): 5.4' x 3.7'
Classification: E5
Elliptical Galaxy


---
Click below to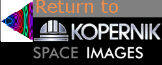 George Normandin, KAS
May 2nd, 2002