Globular Star Cluster M-55 (NGC 6809) in Sagittarius
---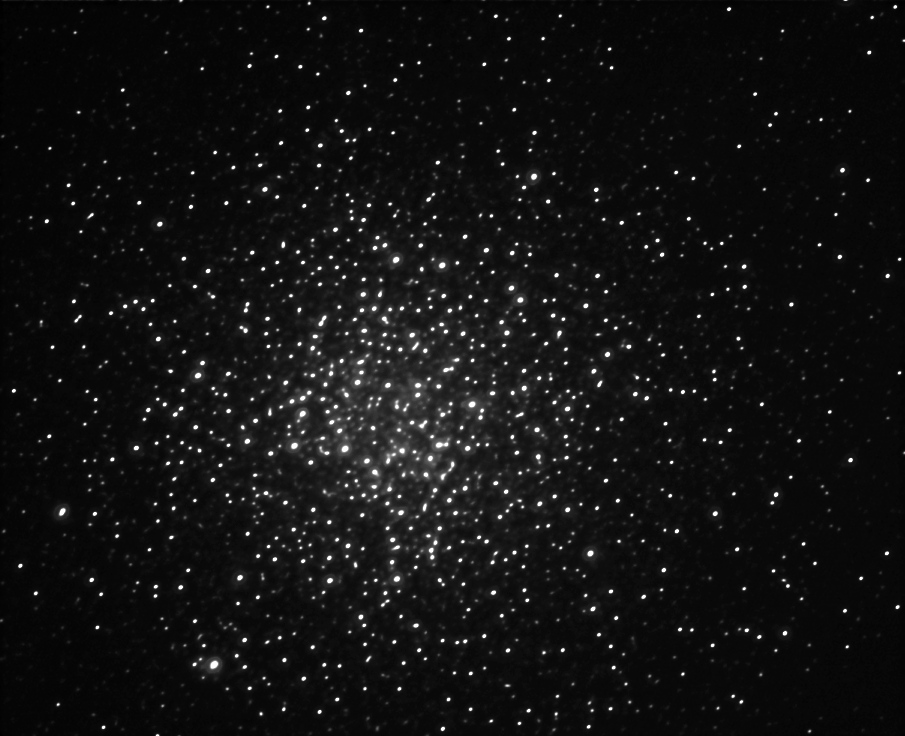 This is a 10-minute exposure taken with an SBIG STL-1301E CCD camera through Kopernik's 20 inch F/8.1 telescope. The field of view is about 15 x 15 arc minutes.
---
Description of M-55 in The Deep Sky Field Guide to Uranometria 2000 (c) Willmann-Bell, Inc.:
Brightest stars = magnitude 11.2;
horizontal branch stars magnitude = 14.4;
concentration: 11 (low =12 high = 1).




Charles Messier (July 24th, 1778): '''A nebula which is a whitish spot. Extending for 6 arc minutes around the light is even and does not appear to contain a star…… Discovered by M. Abbe de LaCaille in 1775."

Quotes from Burnham's Celestial Handbook:

"A large but loose-structured globular star cluster located about 7' to the east and slightly south from Zeta Sagittari....... ....M55 (is) easily visible in a good pair of field glasses as a hazy "star" of about 7th magnitude; in the small telescope it appears as a circular glow about 10' wide and the apparent size increases to 15' on photographic plates....."

"M-55 is believed to be among the nearer globular clusters, and is estimated to be a little less than 20,000 light years distant; the derived diameter is then about 80 light years, and the actual luminosity close to 100,000 times the Sun......"

While observing in South Africa in 1751 Nicolas-Louis de Lacaille discovered a 'nebula' in eastern Sagittarius that he described as resembling "an obscure nucleus of a big comet." Because the object culminated just ten degrees above the Paris horizon Messier didn't add this newfound object to his list until 1778, though he searched and failed to find it as early as 1764. John Herschel was apparently the first to recognize that this 'nebula' was actually globular star cluster.
(Click here for the latest news on Globular Star Cluster distances and ages!!)
---
M-55, (NGC 6809)
Magnitude: 7.0
Constellation: Sagittarius
RA: 19h 40m
Dec: -30° 58' Epoch 2000
Size (mins) 19.0'
Classification: Globular Cluster

---
George Normandin, KAS

August 5th, 2006