M-43, An Emission Nebula in Orion
a part of the Great Orion Nebula, (NGC 1982)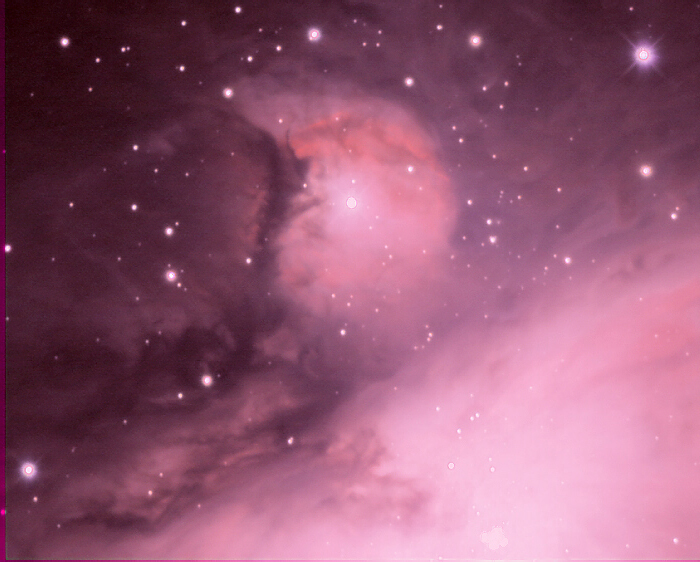 CCD image taken with an STL-1301E CCD camera thru our 20-inch telescope. The field of view is about 12x15 arc minutes, with North at the top.
---
M-43 is a bright emission nebula that appears in a small telescope as the detached northern portion of the Great Orion Nebula (M-42). It is the raindrop shaped nebula in the center of the image above, and it surrounds a 9th magnitude star. It was first described by Jean-Jacques De Mairan in 1733, and is sometimes called "Mairan's Nebula". At the top of the image (south) is the "Fish Mouth" and "Huyghenian Region" of M-42. The Trapezium star cluster is unfortunately washed out even in the short 5 second exposures used to make this picture. M-43, and the rest of the Orion Nebula, is itself only a portion of a larger nebuar complex of glowing gas, dark molecular clouds, and thousands of newly forming stars.
Jean-Jacques De Mairan: (1733) 'Close to the luminous space of Orion, one sees one of the stars ... surrounded by a brilliance very similar to that which produces, as I believe, the atmosphere of our Sun, if it were dense enough and extensive enough to be visible in telescopes at a similar distance.'
Guillaume Le Gentil: (April 3rd, 1758) 'The light of this star is pallid and feeble and does not twinkle at all.'
C. Messier: (March 4th, 1769) 'Position of a little star surrounded by nebulosity and which is below the nebula of Orion's sword. M. Messier has included it in the drawing of the Great Nebula.'
---
M-43, NGC 1982

Magnitude

: 9.0

Constellation

: Orion

RA

: 05h 35m 36.0s

Dec

: : -05° 16' 00" Epoch 2000

Size

(

mins

) 2 x 5

Classification

: Emission Nebula.
---
Click below to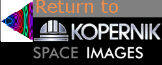 George Normandin, KAS
January 12th, 2005