Globular Star Cluster M-19 ( NGC 6273)
---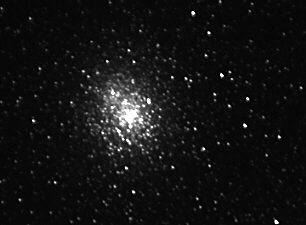 This image was taken with an SBIG ST-6 CCD camera and Kopernik's Optical Guidance Systems 20 inch Ritchey Chretien Cassegrain. The 8 minute exposure was made with a custom-made focal reducing lens, which cuts the scope down to F/4.9. The field of view is about 9x12.5 arc minutes and the resolution is about 2.3 arc seconds per pixel.
---
Description of M-19 in The Deep Sky Field Guide to Uranometria 2000:
Brightest stars = magnitude 14.0;
horizontal branch stars magnitude = 15.3
---
M19 is one of the most oblate globulars. It is noticeable even in small telescopes. H.Shapley claimed that he could count twice as many stars along the major axis as compared to the minor. The longer diameter orientation is nearly North-South at a Position Angle of about 15 Degrees from north. This is one of the globular clusters which appears to be embedded in the central hub of the Milky Way Galaxy. The cluster is probably somewhat more remote than M10 or M12. It is heavily obscured by gas and dust, making it difficult to determine an accurate distance. Published values range from 20,000 up to about 30,000 light years. M19 shows a radial velocity of 60 miles per second in recession.
---
M-19, NGC 6273
Magnitude: 7.2
Constellation: Ophiuchus
RA: 17h 02m 36.0s
Dec: -26d 16' 00" Epoch 2000
Size (mins) 13.5
Classification: Globular Cluster

---