Globular Star Cluster M-14 (NGC 6402)
The first of the two images below is a color image taken with the Kopernik 20-inch telescope working at around F/5.
The second is a black and white image taken with the telescope working at prime focus (F/8.1)
---

This image was a 15 minute exposure taken with an STL-1301E CCD camera thru Kopernik's 20-inch F/8.1 telescope working at about F/5. The field of view is about 20x24 arc minutes.
---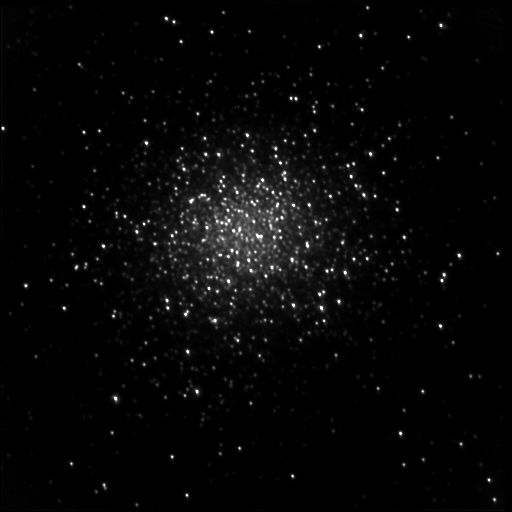 This image was a 5 minute exposure taken with an ST-9E CCD camera thru Kopernik's 20-inch F/8.1 telescope. The field of view is about 8x8 arc minutes.
---
Description of M-14 in The Deep Sky Field Guide to Uranometria 2000 (c) Willmann-Bell, Inc.:
Brightest stars = magnitude 14.0;
horizontal branch stars magnitude = 17.2


Charles Messier (June 1st, 1764): 'Nebula without star; not large, faint, visible in 3.5-foot telescope. Round; near 9 mag. star. Plotted on chart of comet of 1769. (Diam. 7')'

W. Hershel (1783): 'Extremely bright, round, easily resolvable: with 300x I can see the stars. This cluster is considerably behind the scattered stars as some of them are projected upon it.'

J. Hershel: '....most beautiful and delicate globular cluster, not very bright, but of the finest star dust, all well resolved, and excessively rich .....all the stars equal ... 15..16 magnitude'

Burnham's Celestial Handbook: M14 is one of those globulars that lack a sharp central condensation, the distribution of light being very smooth across the disc, with a gradual tapering off at the outer edges. Some hint of resolution may be achieved in an 8-inch or 10-inch telescope, but large instruments are required to show the countless members appearing as if the whole field had been powdered with luminous dust. This is evidently a more remote cluster than M10 or M12, and the stars begin to appear in vast numbers at about magnitude 15.5. Long exposure photographs show that the group is not precisely spherical, but distinctly elongated E-W..
---
One distance estimate for M-14 is 24 thousand light years. (But Click here for the latest news on Globular Star Cluster distances and ages!!)

In 1964, the first nova ever to be photographed in a globular cluster was discovered in M-14 by Amelia Wehlau of the University of Western Ontario. The nova actually brightened in 1938 and was found at the later date from plates taken by Helen Sawyer Hogg between 1932 and 1963, using the 74-inch reflector of the David Dunlap Observatory and the 72-inch of the Dominican Astrophysical Observatory. 255 photos were obtained on 124 nights during this period and the nova appears on only eight of them, these being taken on June 21-28th, 1938. The only other nova found in a globular cluster was T Scorpii, discovered in 1860 in M-80.
---
M-14, NGC 6402
Magnitude: 7.6
Constellation: Ophiuchus
RA: 17h 37m 36.0s
Dec: -03° 15' 00" Epoch 2000
Size (mins) 11.7
Classification: Globular Cluster

---
George Normandin, KAS

October 31st, 2007