Globular Star Cluster M-12 (NGC 6218)
---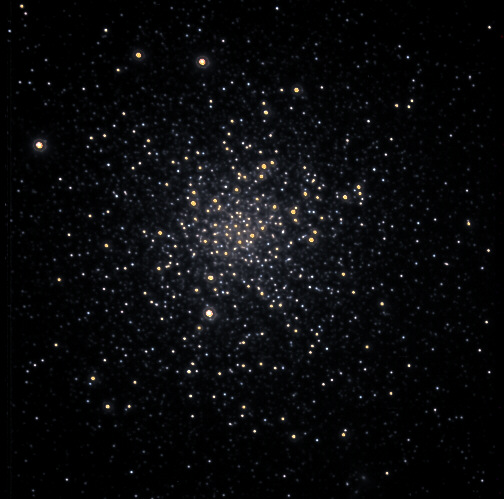 This is a 25-minute exposure (10:5:5:5 LRGB) taken with an SBIG ST-9E CCD camera through Kopernik's 20 inch F/8.1 telescope. The field of view is about 8 x 8 arc minutes.
---
Description of M-12 in The Deep Sky Field Guide to Uranometria 2000 (c) Willmann-Bell, Inc.:
Brightest stars = magnitude 12.2;
horizontal branch stars magnitude = 14.9;
concentration: 9 (low =1 high = 12).




Charles Messier (May 30th, 1764): '''Contains no star; round, faint; near by is a 9 mag. star. Reported on 2nd chart of comet of 1769.' (Diam. 3 arc min.)"

Quotes from Burnham's Celestial Handbook:

'A bright globular star cluster, located about 3.4° NW of M-10 and discovered by Messier in May 1764. M-12 is a slightly larger but somewhat dimmer group than M-10, and has a looser structure showing a relatively slight central condensation. As in the case of most globulars, Messier and Bode both found it unresolvable, and the group was first identified as a cluster by Sir William Herschel in 1783..... M12 is not one of the more concentrated globular clusters, but the relatively loose structure does permit more easy resolution in fairly small telescopes, and it is generally a pleasing object in amateur instruments.

According to Sawyer's "Bibliography of Individual Globular Star Clusters" M-12 has a total integrated photographic magnitude of 7.95 and an integrated spectral type of F7. Only one variable star has been identified in the cluster. Published values for the distance of M-12 vary from 16,000 to about 24,000 light years; there appears to be a general agreement that it is virtually at the same distance as M-10. The true separation of the two clusters is then about 2,000 light years; each group must appear as a bright naked-eye object of about 2nd magnitude as seen by the hypothetical inhabitants of the other cluster.....
(Click here for the latest news on Globular Star Cluster distances and ages!!)
---
M-12, (NGC 6218)
Magnitude: 6.6
Constellation: Ophiuchus
RA: 16h 47m 12.0s
Dec: -01° 57' 00" Epoch 2000
Size (mins) 14.5'
Classification: Globular Cluster

---