Spiral Galaxy M-108 (NGC 3556) in Ursa Major


This is a 10 minute exposure with an ST-6 CCD camera taken thru Kopernik's 20-inch telescope. The field of view is about 5x7 arc minutes, with south at the top.
---
Quote from Dreyer's New General Catalog(NGC):

"Considerably bright, very large, very moderately extended 79°, westward brighter middle, resolvable, but mottled; = M108."


Quote by Pierre Mechain: "A nebula close to Beta in Ursa Major."


Quote by K. G. Jones: "This edge-on spiral shows almost no sign of any central 'bulge'. The spiral arms display heavy obscuration along the major axis, with a few H-II regions emerging as bright condensations against a mottled background."

NGC 3556 (a.k.a. M-108) is a spiral galaxy of complex shape in the constellation of Ursa Major. Pierre Mechain discovered this galaxy in 1781 or 1782. Messier's unpublished notes show that he knew of Mechain's discovery, and it is therefore often added to modern listings of the Messier catalog.

This spiral galaxy, seen nearly edge-on, is difficult to classify. There is no apparent nucleus but there is a broad, not very bright bar. There are several complex, partially resolved arms with many dark lanes on one side. Studies with radio telescopes show several shells of neutral hydrogen. The distance to M-108 is roughly 37 million light years.
---
M-108, NGC 3556
Magnitude: 10.7
Constellation: Ursa Major
RA: 11h 11m 31.8s
Dec: +55° 40' 15" Epoch 2000
Size (mins): 8.7' x 2.3'
Classification: SB(s)cd


Barred Spiral Galaxy, S-shaped
---
Click below to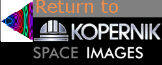 George Normandin, KAS
February 28th, 2002