Spiral Galaxy M-106 (NGC 4258) in Canes Venatici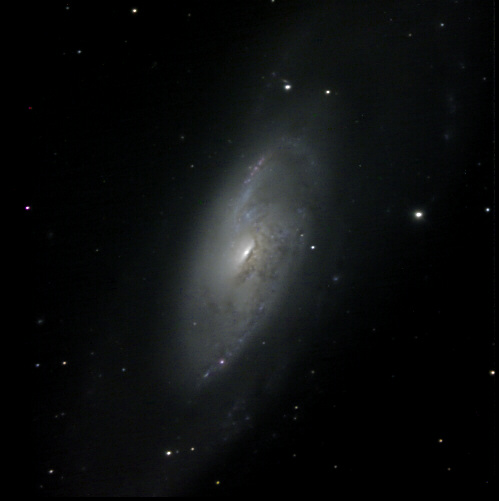 This is a 30 minute exposure with an ST-9E CCD camera thru Kopernik's 20-inch telescope focal reduced to F/5.2. The field of view is about 13x13 arc minutes, with north to the top.
Click Here for a black & white image of M-106 that was taken at F/4. The field of view is a little larger at 16x16 arc minutes.
---
Quote from Dreyer's New General Catalog(NGC):

"Very bright, very large, very moderately extended 0°, abruptly brighter middle, bright nucleus."


Quote by Pierre Mechain: "In July 1781 I found another nebula close to Ursa Major, near star No. 3 of Canes Venatici and 1 degree further south."


NGC 4258 (a.k.a. M-106) is a bright spiral galaxy in the constellation of Canes Venatici. Pierre Mechain discovered this galaxy in July of 1781. Since there is evidence that Messier knew of at least some of Mechain's six additional discoveries, they are often added to modern listings of the Messier catalog. Thus this galaxy often is called "M-106" even though it did not appear in the originally published catalog.

M-106 has two principal arms on the periphery of a bright inner lens. There are quite chaotic dust lanes across the central lens. These lanes form a very rough spiral pattern throughout the central region. Numerous knots, presumably H-II regions, are present in the main arms. Faint outer spiral arms thread through the outer disk.

The small bright nucleus of M-106 provides one of the best examples of a Seyfert type Active Galactic Nucleus (AGN). Radio astronomers have found evidence of an extremely massive object in the center that is most likely a black hole. (Refer also to M-77).
---
M-106, NGC 4258
Magnitude: 9.3
Constellation: Canes Venatici
RA: 12h 18m 57.8s
Dec: +47°18'16" Epoch 2000
Size (mins): 18.6' x 7.3'
Classification: SAB(s)bc


Mixed Barred Non-barred Spiral Galaxy, S-shaped
---
Click below to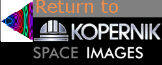 George Normandin, KAS
June 30th, 2003