John Dobson,
Of the San Francisco Sidewalk Astronomers

Photos from the famous
Amateur Astronomer and
Telescope Inventor's visit to
Kopernik Observatory & Science Education Center,
Oct. 3rd & 4th, 1997

John Dobson is perhaps the most influential and well known amateur astronomer of the age. He appeared in PBSís The Astronomers, and he invented the low cost but highly effective Dobsonian type telescope that bears his name. We and our visitors were lucky to have him as the main speaker at our annual AstroFest in 1997.
See More Pictures of John Dobson below:

John talked at both Kopernik and the Roberson Museum and Science Center. Using his theater-in-the-round, question-&-answer style, he thrilled our members and visitors with his unique insight into astronomy, cosmology, and telescope making. John covered his invention of the "so-called Dobsonian" telescope, and his recommendations on the "best telescopes" for planetary, and deep sky observing, from both the city and rural locations. He told of the activities of the San Francisco Sidewalk Astronomers in bringing astronomy to everyone, and using humor and sweeping analogies, he covered areas from galaxy formation, to super nova explosions. As usual, he was at his most controversial, when he turned to cosmology and his doubts about the currently popular Big Bang theory for the origin of the Universe.


John Dobson holds the Big Bang in a paper bag!!
Actually, this is a photo from Johnís presentation in Kopernikís Space Science Lab. The audience was enthralled by Dobsonís style. Of course when the whole Universe is your topic, it's hard to be boring!!
| | |
| --- | --- |
| Soooo..... This is a so-called "Dobsonian" Telescope | Now this is the part that you Gold Plate...... |
---
Click below to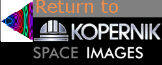 George Normandin, KAS
December 7th, 1998