Cocoon Nebula IC 5146 in Cygnus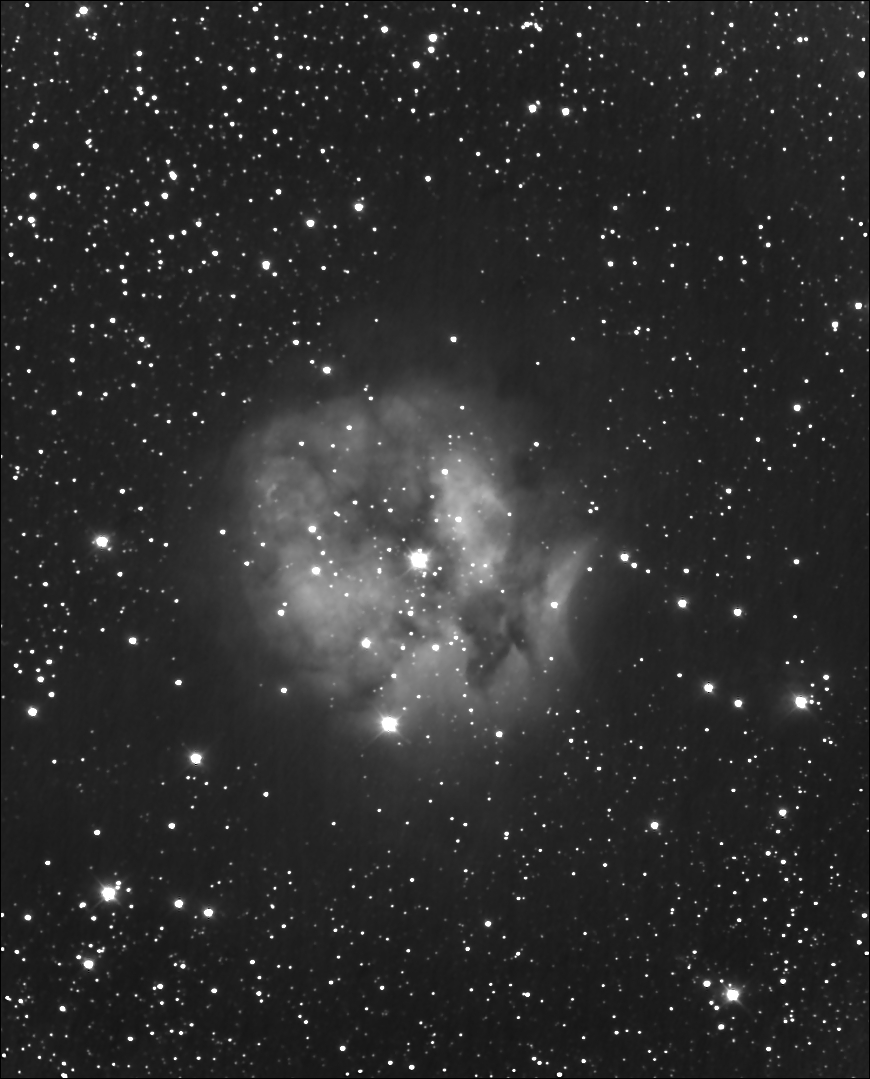 ---
A 32 minute exposure with an STL-1301E CCD camera and h-alpha filter, thru Kopernik's 20-inch F/8.1 Ritchey Chretien Cassegrain telescope focal reduced to F/5.3. North is at the top.
---
Quote from: The Deep Sky Field Guide to Uranometria 2000:

"Several absorption patches involved in the interior. There is a small detached patch of nebulosity, comparable in surface brightness, 10 arc minutes west-northwest of center."

Quote from: Dreyer's Index Catalog (IC):

"Pretty bright, very large, irregular figure, 9.5th magnitude star in middle."

The Cocoon Nebula (IC 5146; also Sharpless 125) is a strikingly beautiful nebula located about 4,000 light years away in the Constellation of Cygnus. It is embedded in the large and long Dark Nebula (Barnard 168), which extends will beyond the field covered in the image above. Inside the Cocoon is a newly developing cluster of stars. Like other stellar nurseries, the Cocoon Nebula is an emission nebula, a reflection nebula, and an absorption nebula. It stands out in red, glowing, hydrogen gas excited by young, hot stars and blue, dust-reflected starlight at the edge of an otherwise invisible molecular cloud. The Kopernik image above was taken thru a narrow-band h-alpha filter so it only shows the glowing emission nebulosity.

Some astronomers believe that the massive star in the center of the Cocoon Nebula opened a hole in an existing cold dark molecular cloud through which much of the glowing material flows. The same star, which formed about 100,000 years ago, now provides the energy source for much of the emitted and reflected light from this nebula. It is classified as a Herbig Be star. These stars are pre-main sequence intermediate mass stars (2 to 8 solar masses) which are often associated with dust or reflection nebulosity.
---
IC 5146 The Cocoon Nebula
Magnitude: 7.0
Constellation: Cygnus
RA: 21h 53m 24.0s
Dec: +47° 16' 00" Epoch 2000
Size (mins): 12.0'
Classification: A bright nebula with emission and reflection components, plus dark nebula patches.

---
George Normandin, KAS
December 29th, 2010