Lenticular Galaxy IC 1473 and Companion

This is an 12 minute exposure with an ST-9E CCD camera thru Kopernik's 20-inch F/8.1 Ritchey Chretien Cassegrain telescope. The field of view is 8x8 arc minutes with North at the top.
---
IC 1473 is a Lenticular Galaxy in the Constellation of Pegasus. It has a bright nucleus and is an infrared source.

The small galaxy to the upper right of IC 1473 is cataloged as "2MASXi J2311005+294003". It measures magnitude 17.6 in the Kopernik image. Since there is no red shift data on this galaxy there is no way of knowing if it is a background object or a small companion of IC 1473.

Using the red shift data from the "NASA Extra-galactic Data Base(NED)", (and a Hubble Constant of 62 Km per sec., per Megaparsec), one can calculate a rough distance estimate for IC 1473 of about 44 million light years.
---
IC 1473
Magnitude: 13.9
Constellation: Pegasus
RA: 23h 11m 04.8s
Dec: +29° 38' 39" Epoch 2000
Size (mins): 2.0' x 1.0'

Classification: SO

Lenticular Galaxy

Dreyer description in the IC:

"Faint, pretty small, gradually brighter middle."


2MASXi J2311005+294003
Magnitude: 17.6
RA: 23h 11m 00.6s
Dec: +29° 40' 3.7" Epoch 2000
Size (mins): 0.4' x 0.12'

Classification: ??

Galaxy, type unknown, IR source.Galaxy



---
Click below to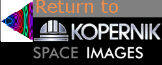 George Normandin, KAS
January 7th, 2003