Hickson 86, A Compact Group of 4 Galaxies
Also: Galaxy ESO 461-5

A 10 minute exposure taken with ST-9E CCD camera thru Kopernik's 20 inch telescope. The scope was focal reduced to F/4. The field of view is about 16x16 arc minutes, with North at the top..

---
Image of Hickson 86 with the galaxies labled: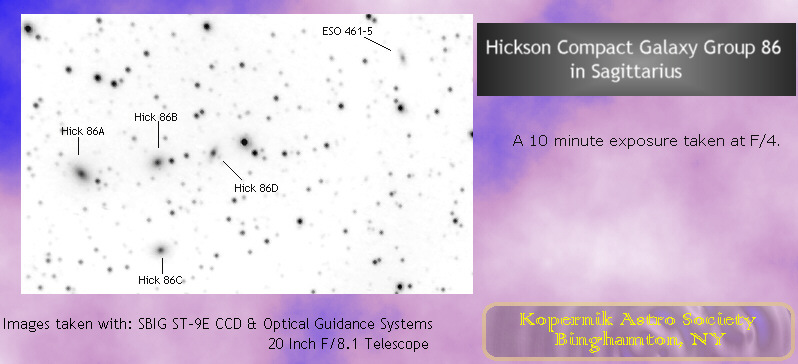 ---

Quote from Paul Hickson's Atlas of Compact Groups of Galaxies:

"This is a relatively loose quartet of (elliptical) type galaxies. Another galaxy (ESO 461-5) of comparable brightness can be found to the west, and may be related to the group."

These five elliptical galaxies are in Sagittarius. Based on their red shift, a rough distance estimate for Hickson 86 is 315 million light years.
---
Hickson 86a (ESO 461-7)
Magnitude: 14.3
Constellation: Sagittarius
RA: 19h 52m 08.8s
Dec: -30° 49' 33" Epoch 2000
Size (mins): 1.2' x 0.7'

Classification: E2, Elliptical


Hickson 86b (MCG -05-47-003)
Magnitude: 15.13
RA/Dec: see Hickson 86A
Size (mins): 0.74' x 0.55'

Classification: E2, Elliptical




Hickson 86c (MCG -05-47-002)
Magnitude: 16.08
Size (mins): 0.57' x 0.44'

Classification: SB0, Lenticular

Hickson 86d (MCG -05-47-001)
Magnitude: 15.85
Size (mins): 0.62' x 0.32'

Classification: SO, Lenticular

ESO 461-5
Magnitude: 14.44
Constellation: Sagittarius
RA: 19h 51m 04.9s
Dec: -30° 45' 29" Epoch 2000
Size (mins): 1.0' x 0.8'

Classification: SO, Lenticular
---
Click below to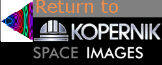 George Normandin, KAS
October 9th, 2001