Hickson 76, A Compact Group of 4 Galaxies
Including: NGC 6161, 6162, 6163, & PGC 58231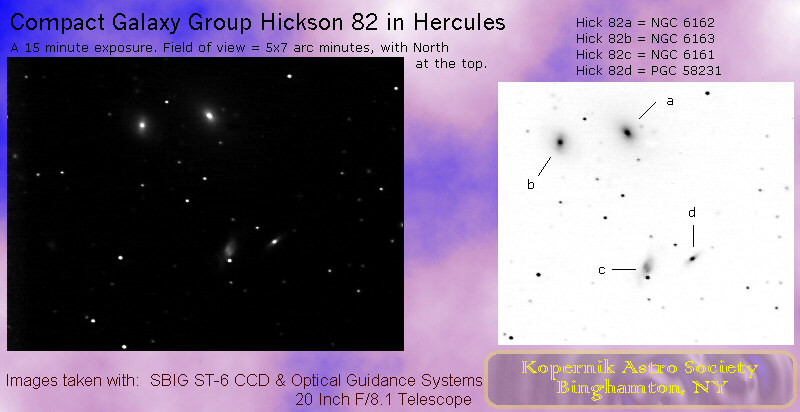 ---

Quote from Paul Hickson's Atlas of Compact Groups of Galaxies:

"Group 82 is a relatively loose quartet with a very high velocity of dispersion. The irregular galaxy Hickson 82c (NGC 6161) is a radio and infrared source. The compact object at the south end of this galaxy is probably a star."

This group is roughly 571 million light years away.
---
Hickson 82a (NGC 6162)
Magnitude: 14.9
Constellation: Hercules
RA: 16h 28m 22.6s
Dec: +32° 50' 57" Epoch 2000
Size (mins): 0.8' x 0.7'

Classification: E3, Elliptical


Hickson 82b (NGC 6163)
Magnitude: 15.6
RA/Dec: see Hickson 82a
Size (mins): 0.6' x 0.3'

Classification: SBa, Barred Spiral




Hickson 82c (NGC 6161)
Magnitude: 16.1
RA/Dec: see Hickson 82a
Size (mins): 0.9' x 0.3'

Classification: Im, Irregular

Hickson 82d (PGC 58231)
Magnitude: 16.7
RA/Dec: see Hickson 82a
Size (mins): 0.5 x 0.2

Classification: SOa, Lenticular
---
Click below to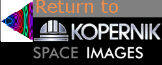 George Normandin, KAS
June 20th, 2001