Hickson 56, A Compact Group of 5 Galaxies in Ursa Major
aka Arp 322

A 15 minute exposure taken with ST-9E CCD camera thru Kopernik's 20 inch telescope. The field of view is about 8x8 arc minutes, with North at the top.

---

Quote from Paul Hickson's Atlas of Compact Groups of Galaxies:

"Group 56 consists of five galaxies, three of which appear to be in contract and interacting. Two of these three galaxies (B and D) are radio sources. Infrared emission is also detected from this interacting system."

This interesting group, found in the Constellation of Ursa Major, belongs both to the list of Vorontsov-Vel'yaminov (1959; number 150) and to that of Arp (1966; number 322). It is characterized by the spectacular stream of matter linking galaxies B and C. Galaxy C shows a conspicuous asymmetric halo but galaxy D has a simple outer luminosity profile. Finally, we note that galaxy A and galaxy D are Seyfert galaxies.

Based on their red shift, a rough distance estimate for the Hickson 56 galaxies is 425 million light years.
---
Hickson 56A (MCG 9-19-113)
Magnitude: 14.8
Constellation: Ursa Major
RA: 11h 32m 46.7s
Dec: +52° 56' 28" Epoch 2000
Size (mins): 1.1' x 0.2'

Classification: Sbc, Edge-on Spiral


Hickson 56B
Magnitude: 15.00
RA/Dec: see Hickson 56A
Size (mins): 0.57' x 0.35'

Classification: SB0, Barred Lenticular




Hickson 56C
Magnitude: 15.82
Size (mins): 0.61' x 0.47'

Classification: (R')S0/a pec:, pseudo outer ring, Lenticular, peculiar (uncertain)

Hickson 56D
Magnitude: 17.01
Size (mins): 0.42' x 0.26'

Classification: SA(s)0/a pec: Sy2, Spiral, S-shaped, peculiar (uncertain), Seyfert Type II

Hickson 56E
Magnitude: 16.37
Size (mins): 0.42' x 0.32'

Classification: SB0 pec:, Barred Lenticular, peculiar (uncertain)

Hickson 56 is also listed as:
Vorontsov-Vel'yaminov 150
Arp 322
UGC 06527
and several others
---
Click below to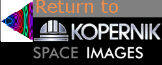 George Normandin, KAS
May 15th, 2002