Hickson 44, A Compact Group of 4 Galaxies
Including: NGC 3185, 3187, 3190, & 3193

A mosaic of two 15 minute exposures taken with ST-9E CCD camera thru Kopernik's 20 inch telescope. The scope was focal reduced to F/4. The field of view is about 16x30 arc minutes.

---
Image of Hickson 44 with the galaxies labled with their NGC numbers: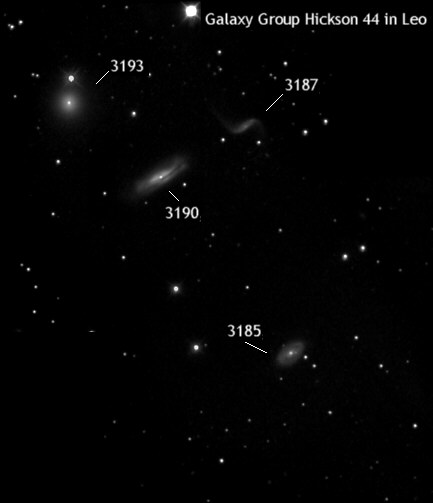 ---

Quote from Paul Hickson's Atlas of Compact Groups of Galaxies:

"This is a well-know group of four near-by NGC galaxies (also known as Arp 316 and VV 307). All three spiral galaxies show morphological peculiarities and are radio sources. Note the prominent dust lane in NGC 3190 and the outer ring of NGC 3187."

Click here for larger scale images of NGC 3185, 3190, and 3193, plus additional information on each of these galaxies.
---
Hickson 44a (NGC 3190)
Magnitude: 12.0
Constellation: Leo
RA: 10h 18m 05.7s
Dec: +21° 49' 59" Epoch 2000
Size (mins): 4.3' x 1.5'

Classification: Sa(s)a pec, Spiral, peculiar


Hickson 44b (NGC 3193)
Magnitude: 12.0
RA/Dec: see Hickson 44a
Size (mins): 3.0' x 2.7'

Classification: E2, Elliptical




Hickson 44c (NGC 3185)
Magnitude: 12.7
RA/Dec: see Hickson 44a
Size (mins): 2.3' x 1.6'

Classification: (R)SB(r)a, Barred Spiral, Outer Ring

Hickson 44d (NGC 3187)
Magnitude: 16.7
RA/Dec: see Hickson 82a
Size (mins): 0.5 x 0.2

Classification: SB(s)c pec, Barred Spiral, peculiar
---
Click below to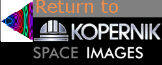 George Normandin, KAS
July 12th, 2001