Spiral Galaxy ESO 576-40
and Supernova 1997br
---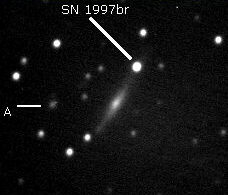 CCD Image of Supernova 1997br in Galaxy ESO 576-40 taken on 5/8/97 at 3:15 UT. It is a 9 Minute exposure using an SBIG ST-6 thru Kopernik's 20 inch F/8.1 telescope. North at top; field: about 5x7 arc minutes.
For more pictures of this galaxy & supernova, click here.
---
Info on galaxy ESO 576-40:
Other IDs: MCG -4-32-7, PGC: 46574
Magnitude: 14.7
RA: 13h 20m 43.9s
Dec: -22d 03' 01" Epoch 2000
Size (mins) 2.1 x 0.4
This galaxy is listed in the European Southern Observatory(ESO) galaxy catalog, and that is the reason for the name: "ESO 576-40".
---

The following is the data on Supernova 1997br:
Discovered: April 10th, 1997
RA: 13h 20m 42.4s
Dec: -22d 02' 16"
Mag 14.5(at discovery), Type Ia
.....from the Harvard University Supernova web site:
April 1997 .... spectrum shows this to be a peculiar Type Ia similar to 1991T before maximum. It does not appear to be highly reddened. This is a very unusual event.......
---
As a "bonus" our image includes an anonymous galaxy near ESO576-40, marked as 'A' in the image. The following describes it:
Magnitude: 14.4
RA: 13h 20m 49.6s
Dec: -22d 03' 19" Epoch 2000
Size (mins) 1.5 x 1.2
---
Click below to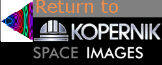 George Normandin, KAS
May 26th, 1997