Photos: A Winterís Dawn at Kopernik

The fellow in the picture is KAS President Jay Edwards, no doubt cold and tired, but celebrating a successful session of observing and photographing Comet Hale-Bopp
---
On the morning of March 9th, 1997 Kopernik Astronomical Society members Jay Edwards, Joe Guth, and George Normandin spent several pre-dawn hours observing and photographing Comet Hale-Bopp. A persistent light snowfall had ended shortly before 2 am, and the sky quickly cleared to reveal the magnificent Hale-Bopp hanging in the eastern sky. After several hours of frantically imaging the comet using Kopernikís telescopes, a cold winterís dawn left little to do but finish off a roll of film, and admire the beauty of the new-fallen snow.

The photos below show more scenes of Kopernik on that crisp morning.
---
Click on each of the thumbnail images below to see a large version.
Note that these are big files, so expect to wait a few minutes for each to download.

The sun rises over our solar panel, bringing another day of free electricity!!

The domes of Kopernik's 3 major telescopes gleam under the morning sun. They house our 12 inch, 14 inch, and 20 inch telescopes.

Our gazebo is often a place for summer picnics, or to spread out observing aids at a star party. However, on this morning, with its well-below-freezing temperature, the gazebo sits abandoned!!!!

KAS members Jay "Wolfman" Edwards(left), and George "Ol' Adirondack" Normandin(right) pose after an all-night observing session. Hey guys, where did ya get those neat duds???!!!...
---
Click below to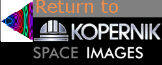 George Normandin, KAS
GeorgePN@worldnet.att.net
January 4, 1998