The "Cone Nebula" in Monoceros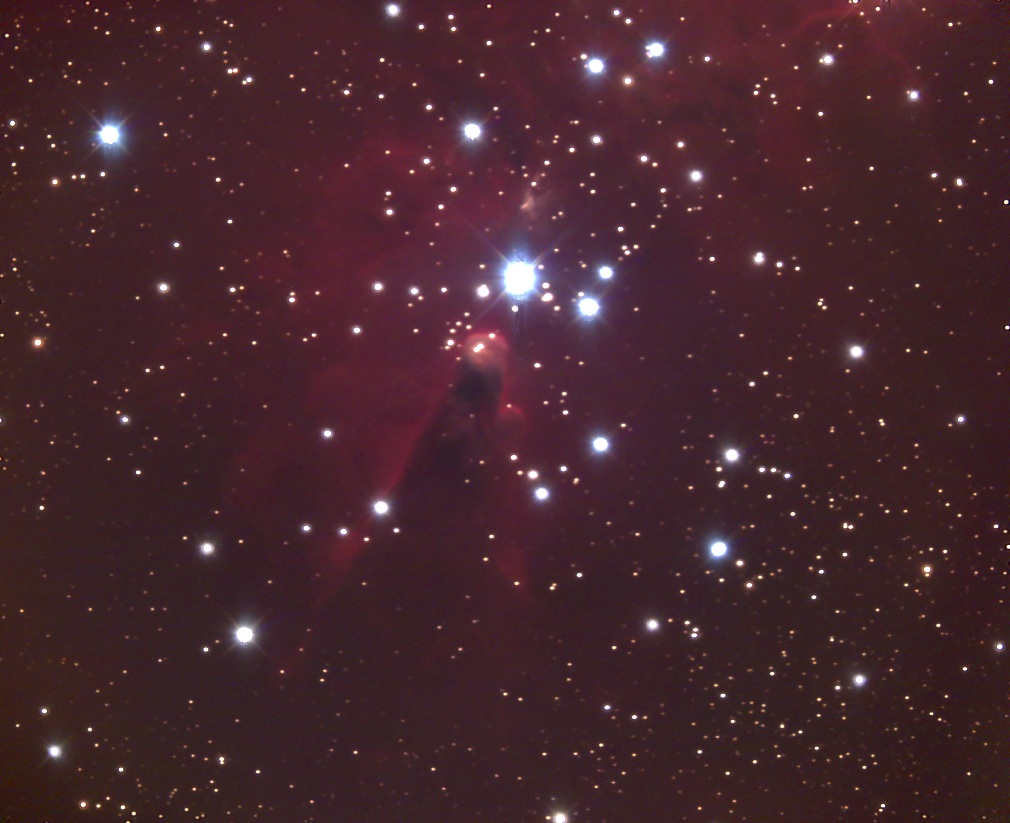 A CCD taken with an STL-1301E camera thru Kopernik's 20-inch F/8.1 telescope focal reduced to F/5. North is at the top and the field of view is about 24x20 arc minutes.
---
The "Cone Nebula", a part of NGC 2264, in Monoceros:

The CCD image shows only a small part of a vast complex of gas, dust, and newly forming stars. This nebula surrounds one of the youngest open star clusters known, NGC 2264. This cluster lies off the top edge of our image.

Radiation from hot, young stars has slowly eroded the dark Cone Nebula over millions of years. Ultraviolet light heats the edges of the dark cloud, releasing gas into the relatively empty region of surrounding space. There, additional ultraviolet radiation causes the hydrogen gas to glow, which produces the red halo of light seen around the pillar. The Cone Nebula is a cousin of the M-16 pillars, which the Hubble telescope imaged in 1995. Monstrous pillars of cold gas, like the Cone and M-16, are common in large regions of star birth. Astronomers believe that these pillars are incubators for developing stars. Click here to go to the Hubble image of the Cone Nebula.

Quote from "Burnham's Celestial Handbook":

"The most awesome and spectacularly beautiful section (of the nebula) is the famous Cone Nebula.... It appears as a great dark pinnacle some six light years high from north to south, wonderfully outlined against glowing nebulosity, and brilliantly illuminated at its summit; the whole structure forming a picture of such strangeness and splendor that it scarcely seems natural.... the modern observer is touched by a stange sensation of having been present at the drama of creation."
---
Cone Nebula (part of NGC 2264)
Constellation: Monoceros
RA: 6h 41m 12.6s
Dec: +09° 26' 25.7" Epoch 2000
Size (mins): 5'x10'
Classification: emission and dark nebula; Gaseous Pillar in the Milky Way Galaxy.

---
George Normandin, KAS
April 24th, 2010