Supernova 2002 bo in Spiral Galaxy NGC 3190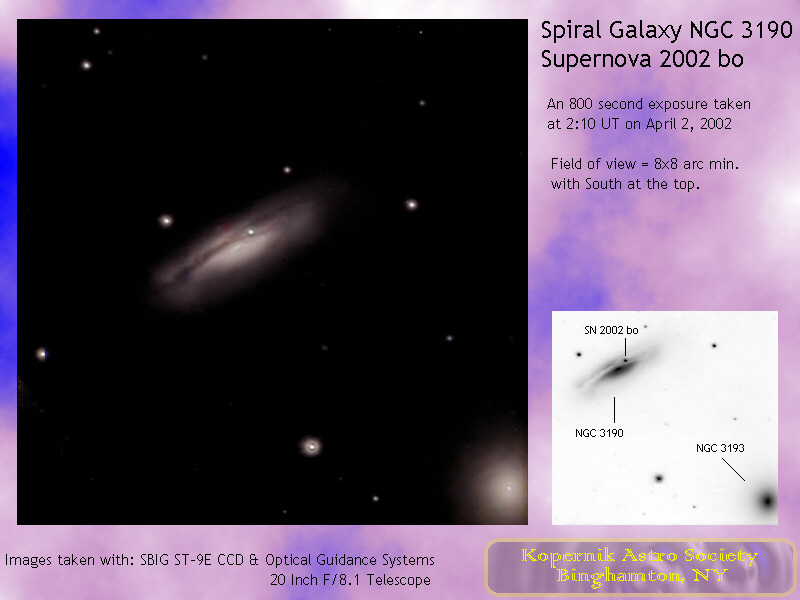 A 800 second exposure taken with an ST-9E CCD camera thru Kopernik's 20 inch F/8.1 telescope at 2:10 UT on Apirl 2, 2002. The field of view is 8x8 arc minutes with South at the top. Color exposures: Blue 240 sec, Green & Red 160 sec each.
---
Supernova 2002 bo:

Discovered March 9th, 2002, by Paulo Cacella (Brazil) and Yoji Hirose (Japan).
Magnitude 16.5 at discovery
Type: Ia (sub-luminous)
The supernova is magnitude 14.4 in the Kopernik image.
In IAU Circular 7851 (3/12/02) Chornock, Li, and Filippenko, University of California, Berkeley, report that "The expansion speed of the ejecta....... is about 16,000 km/s; such a high value suggests that the object is quite young."
Follow this Link to a NASA Web site on supernovas. It has a very nice animation and a description of what these objects are.
---
Spiral Galaxy NGC 3190:

NGC 3190 is a member of the Hickson 44 Galaxy Group in Leo. The Elliptical Galaxy NGC 3193 in the picture above is also a member of the group. Click here for additional information about this group including earlier Kopernik pictures of the four galaxies in Hickson 44.
---
Click below to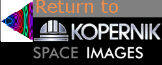 George Normandin, KAS
April 2nd, 2002