Double Star SAO 124835 in Aquila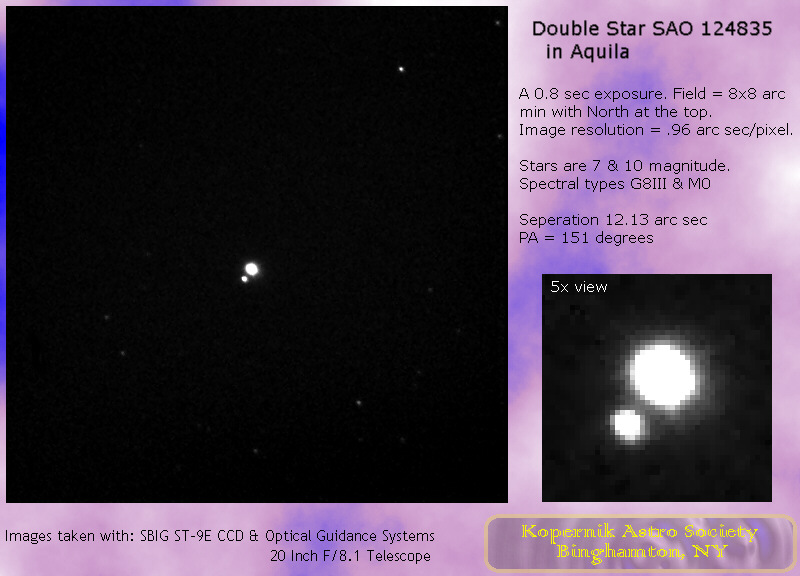 This is a 0.8 minute exposure with an ST-9E CCD camera taken thru Kopernik's 20-inch telescope under poor conditions. The field of view is about 8x8 arc minutes with North to the top.

---
This Double Star was first included in F. Struve's Catalog as Struve 2543. As measured in the Kopernik image the angular seperation of the pair is 12.13 arc seconds at a Position Angle of 151.5 Degrees. This is only a little different from Struve's measurement in 1930. The bright star is magnitude 6.6, while the companion is magnitude 10. The spectral class of the brighter star is G8 III while the other is M0. The distance as measured by the Hipparcos satellite is 889 light years.

Despite the poor seeing when this image was taken, our measured positions are only a few tenths of an arc second different than those measured by Hipparcos.
---
SAO 124835
Magnitude: 6.6 & 10.0
Constellation: Aquila
RA: 19h 36m 12.616s
Dec: 06° 00' 26.707" Epoch 2000
Seperation (sec): 12.13" at P.A. 151.5 Degrees
Classification: G8-III and M0; double star

---
Click below to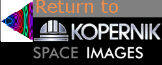 George Normandin, KAS
July 27th, 2004