NGC 2359, a Nebula in Canis Major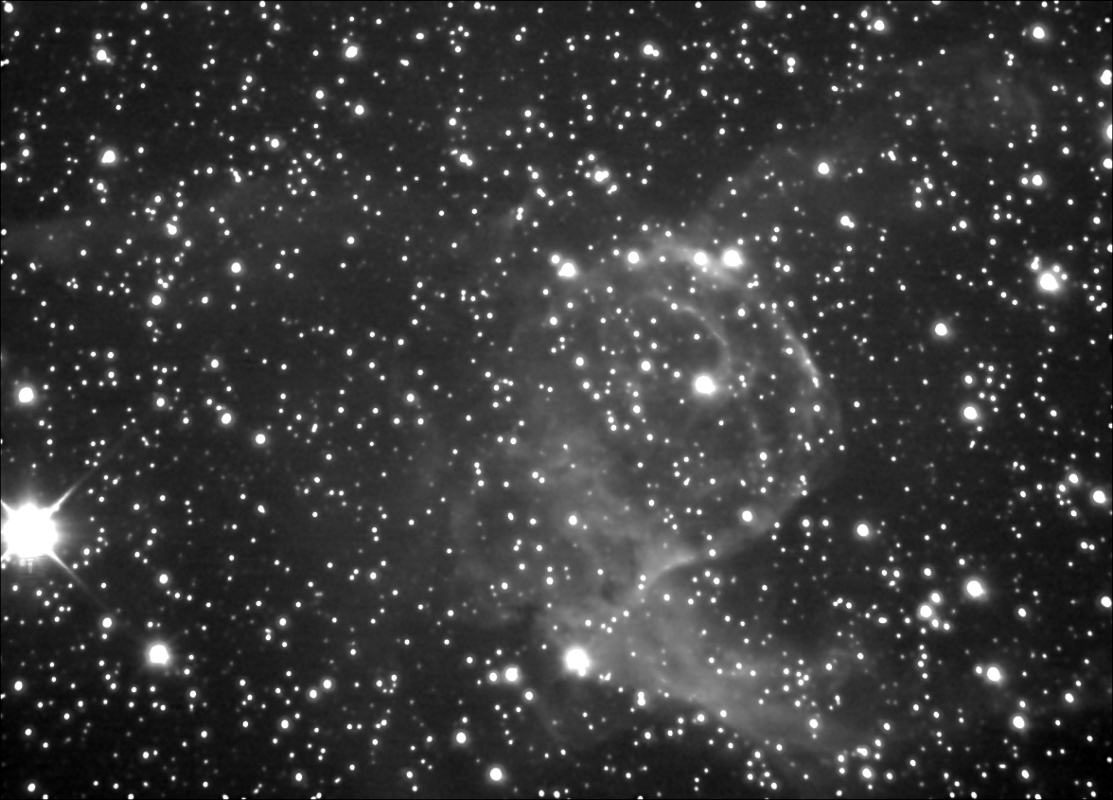 This image is a 21 minute exposure with an STL-1301E CCD camera thru Kopernik's 20-inch F/8.1 Ritchey Chretien Cassegrain telescope.

---
NGC 2359, A bright nebula surrounding a Wolf-Rayet Star:
This ring-shaped nebulosity results from the interaction between the stellar wind of a central Wolf-Rayet star and the interstellar matter. The wind compresses the interstellar matter and produces a bubble of gas around the star.

This bubble could be compared to the piles of snow that form in front of a snow plough, and which move and grow as the plough advances. The bubble expands around the Wolf-Rayet star and as it ploughs through the interstellar medium, it enriches itself with more gas and dust. The bubble's mass is estimated to be about twenty times the mass of the Sun. The emission from the nebula comes from the interaction between the ultraviolet photons emitted by the star and the gas in the bubble.

NGC 2359 is quite different than a planetary nebula. Its Wolf-Rayet central star is a massive and very young star while for planetary nebulae the central star is a very old star in an advanced state of evolution. Such a star is less massive and on its way to becoming a white dwarf.

Wolf-Rayet Stars:

The properties of these stars were first described 1867 by Charles J. Wolf and Georges A. Rayet. Approximately 164 Wolf-Rayet stars are known in the Galaxy. They are very luminous stars of spectral type O or B, and are hot stars, with effective temperatures between 30,000 and 50,000 K, although the precise values are difficult to determine. Their very peculiar spectra show emission lines of a a stellar wind is ejecting matter into space at velocities between 1,000 and 3,000 kilometers per second, and indicate that an envelope of ejected matter exists around the star. The rate of mass loss by the stellar wind is significant, of the order of 10-4 solar masses per year. Wolf-Rayet stars are often seen surrounded by nebulosities such as NGC 2359.
---
NGC 2359
Constellation: Canis Major
RA: 07h 18m 36.0s
Dec: -13° 12' 00" Epoch 2000
Size (mins): 8' x 8'

Classification: Bright bubble nebula surrounding a Wolf-Rayet Star.


GSC 5407:3417
Magnitude: 11.45
RA: 07h 18m 29.132s
Dec: -13° 13' 01.507" Epoch 2000

Classification: A blue supergiant star; a Wolf-Rayet Star.
---
George Normandin, KAS
March 10th, 2012