Elliptical Galaxy NGC 759 - Supernova 2002 fb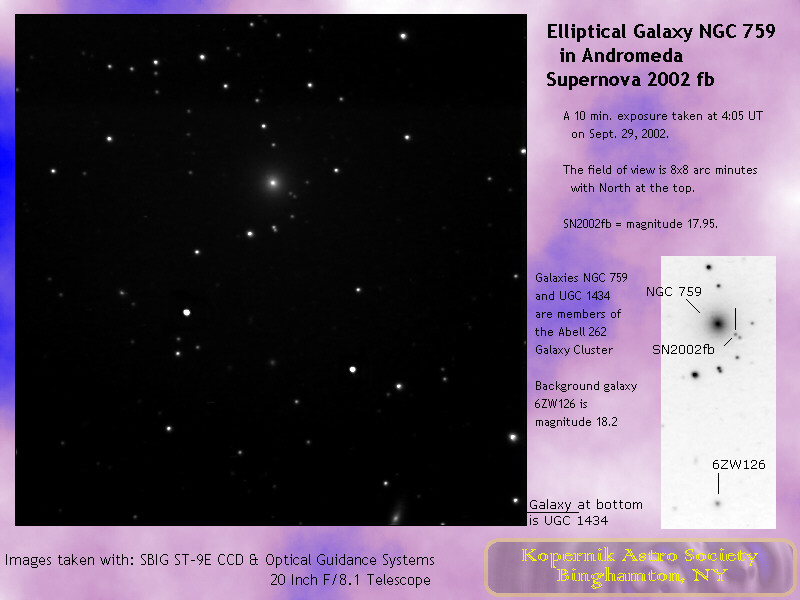 CCD image taken with an ST-9E CCD camera thru Kopernik's 20 inch F/8.1 telescope at 4:05 UT on September 29th, 2002. This was a 10 minute exposure. The field of view is 8x8 arc minutes with North at the top.
---
Supernova 2002 fb:
Discovered September 6th, 2002, by LOTOSS.
Magnitude at discovery: 17.1
Type: Ia-pec
T. Matheson, et al, Harvard-Smithsonian Center for Astrophysics, report that the spectrum of SN 2002fb, shows it to be a possibly peculiar type-Ia supernova near maximum. Several titanium features appear stronger than normal, implying that this may be a sub-luminous type-Ia event similar to SN 1991bg or SN 1999by(Kopernik image).
The supernova is magnitude 17.95 in the Kopernik image.
Follow this Link to a NASA Web site on supernovas. It has a very nice animation and a description of what these objects are.
---
Elliptical Galaxy NGC 759 - Spiral Galaxy UGC 1434:

NGC 759 is an Elliptical Galaxy in the Constellation of Andromeda. It is one of the brightest members of the Abell 262 Galaxy Cluster, lying about 1 degree east of the center. This Cluster is comparable to the Virgo Cluster in size and numbers of galaxies.

UGC 1434 is a Spiral Galaxy (near bottom of image) that is also a member of Abell 262. The dim 18th magnitude background galaxy 6ZW126 lies near the center of the Kopernik image. (6ZW = Zwicky's 6th list of galaxies).

Based on the published red shift, (and a Hubble Constant of 62 Km/sec per Mpc) a rough distance estimate for NGC 759 and supernova 2002 fb is 246 million light years. UGC 1434 is at about the same distance.
---
NGC 759
Magnitude: 13.8
Constellation: Andromeda
RA: 01h 57m 50.3s
Dec: +36° 20' 32" Epoch 2000
Size (mins): 1.6' x 1.5'
Classification: E0 - Elliptical Galaxy.

---
Click below to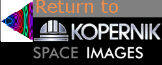 George Normandin, KAS
September 30th, 2002