Compact Galaxy Group Hickson 79 (NGC 6027)
---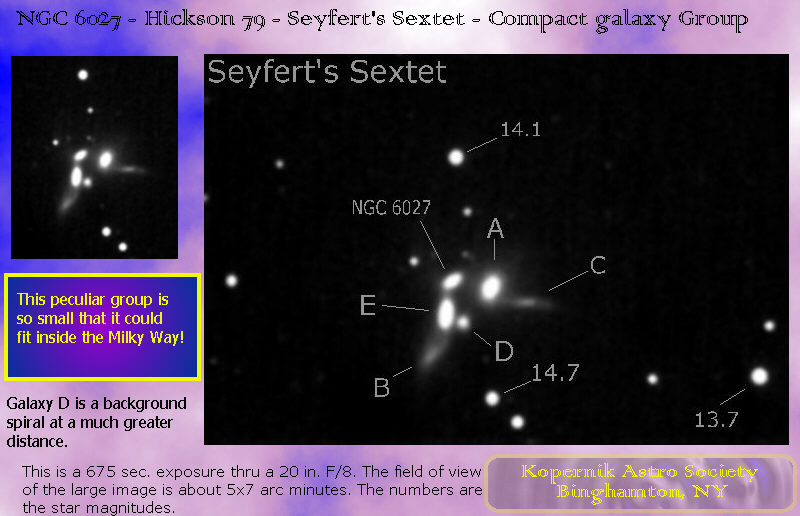 ---
Paul Hickson's Atlas of Compact Groups of Galaxies:

"This is the famous group known as Seyfert's Sextet (also VV 115). It is the most compact group in the catalog, so small that it would fit entirely within the Milky Way galaxy. The bright elliptical galaxy (A above) is a radio and infrared source. The diffuse extension (B) was thought by Seyfert to be a sixth galaxy. The small round galaxy (D) has a much higher redshift that the others".

One current theory of galaxy evolution states that close interacting groups of spiral and small companion galaxies eventually coalesce into a single large elliptical galaxy. To help with research aimed at investigating this theory, Paul Hickson has identified 100 compact galaxy groups where most of the members seem to be interacting, and are very close together. In some cases a high red/blue shift compared to the other galaxies indicates that a galaxy may well be a fore ground or back ground object. This seems to be the case with one member of this group. Recent studies show that this group includes galaxies experiencing different stages of merging. Images with large telescopes show Galaxy D is a distant spiral. This explains why it has a red shift so much greater than the others.
---
NGC 6027
Magnitude: 14.7
Constellation: Serpens
RA: 15h 59m 10.5s
Dec: +20° 45' 39" Epoch 2000
Classification: Galaxy Group
---
Click below to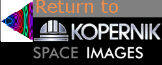 George Normandin, KAS
July 12th, 1999